For Hits and Giggles Golf League
Click Here To Sign Up or Sign Up in the Pro Shop.
If you have additional questions call the shop at 760-444-1800 x1.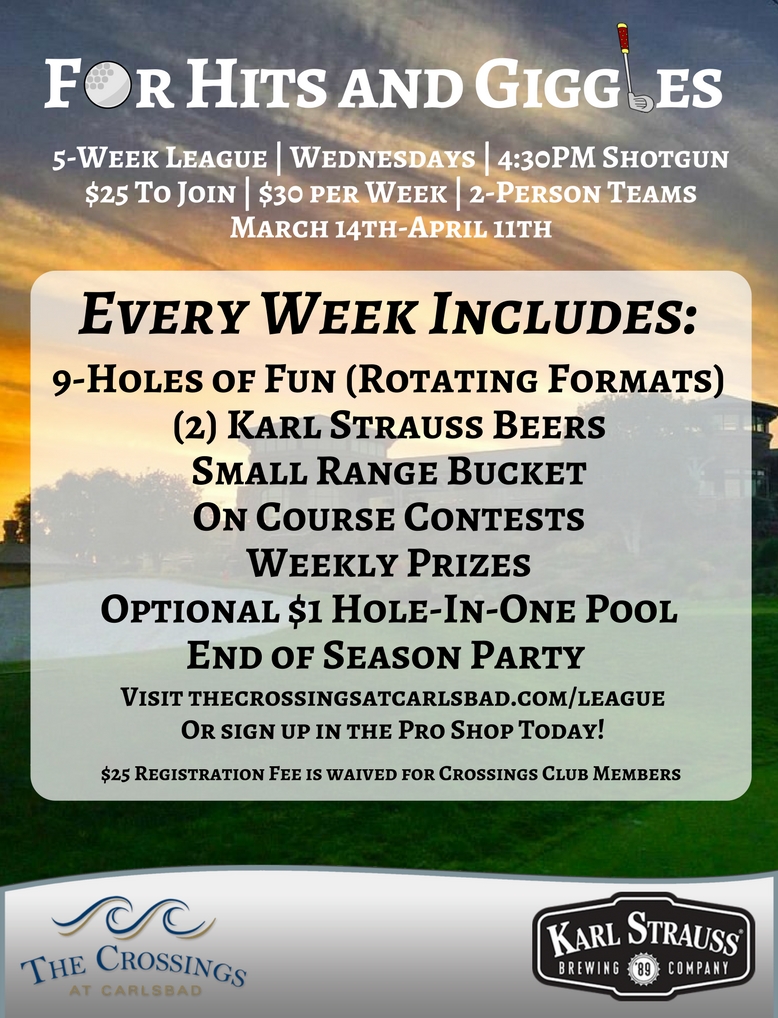 For Hits and Giggles is back!

It's never too late to sign up and you're not committed to every week. Once each player pays the $25 registration fee you have a team. After that, as long as one player from the team is there, you can bring a sub, and the sub will not be charged the registration fee.

Grab a partner and join this fun Golf League on Wednesday evenings at 4:30PM, starting March 14th and running through April 11th. Each player pays $25 to join the league (this goes towards prizes and the party at Karl Strauss) and each player pays $30 each week which includes 9-holes, (2) Karl Strauss Beers, a small bucket, contests & weekly prizes. On the last week of the league we'll head over to Karl Strauss for beers, appetizers and awards.
*Plus, if you show up all 5 weeks your team will win a free twosome!*
(The $25 fee to join the league is waived for Crossings Club Members)
This will be the first of 3 seasons.
Season 2 will run April 25th through May 30th (6-week league) and
Season 3 will run from June 13th through July 25th (6-week league, we will skip July 4th).
These dates are tentative and subject to change but we will update you as we go along.